Crowns
Over time our teeth begin to weaken and become more susceptible to problems such as decay, cracks, discoloration and others. If you feel your smile isn't what it once was, crowns can help you recover your smile. If your dentist notices that a tooth is decayed or seems weakened/cracked, a crown may be necessary. In cases like this a filling or bonding will not be sufficient.
In the past, dentists would need up to 3 weeks to mold, create, and deliver crowns. With the revolutionary and time saving technology of the Plan Meca E4D Dentist System, Dr. Zgoba offers same day crowns in his office. In most cases, within 3 hours, your tooth is reshaped, a 3 dimensional digital scan is taken. From this image, your crown is milled and baked right in the office. A porcelain crowns is then placed maintaining the look and feel of your natural teeth. In most cases, no temporaries or second appointments are needed. The porcelain crowns are durable and will usually last 10-15 years depending on your oral hygiene, regular dental exams, and diet.
Your new crown will blend in and when you look in the mirror, your beautiful smile will be back!
Related Dental Crown Articles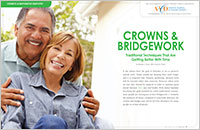 Crowns & Bridgework
Replacing missing teeth — even the ones in back — is important to help restore chewing ability as well as preserve facial contours and reestablish a pleasing smile. Most crowns are made of tooth-colored ceramic materials, which are shaped to look and function just like normal healthy teeth. Crowns and bridgework may sometimes be the best tooth-replacement option, especially when dental implants aren't an option... Read Article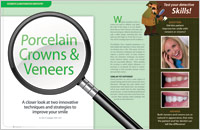 Porcelain Crowns & Veneers
Dear Doctor magazine examines two innovative strategies for improving your smile. In many instances, these two restorative techniques can produce nearly identical aesthetic results, even though they are designed differently for handling different structural problems... Read Article
Value Of Quality Care
Are all crowns created equal? One of the most important factors adding to cost is the quality of the crown itself. Another fact is that dentists generally sub-contract out crown manufacturing to a dental laboratory technician, as they rarely make crowns themselves... Read Article
Creating In-Office Dental Restorations With Computers
Once upon a time, dentists — and patients — needed to wait weeks for a dental laboratory to make crowns and other dental restorations. Now, with an exciting digital technology known as Computer-Aided Design/Computer-Aided Manufacturing (CAD/CAM), some dentists are fabricating high-quality restorations themselves right in their own offices — in minutes! Read Article