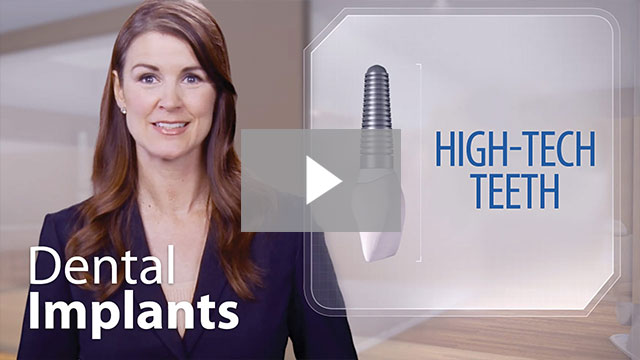 Dental implants are a permanent and appealing solution to replace missing or extracted teeth. They are better than other alternatives like bridges because no additional teeth need to be altered to place the new tooth.

The entire implant process is performed over the course of a few months. The first phase of the process is treatment planning. All necessary digital diagnostic x-rays and CAT Scans are available in our office. Our 3-D CAT Scan allows Dr. Zgoba to review each patient's anatomical structure, density, and quality of bone and nerve position, virtually eliminating any surprises during the procedure and providing a minimally invasive surgery. With the precision of the CAT Scan, the doctor will plan the position, size, and placement of each implant. A customized surgical guide for each patient is then fabricated which shows the exact position for implant placement.  The implant is then surgically inserted into the bone through a much smaller opening in the soft tissue, minimizing swelling and discomfort for our patients.

The implant must be allowed about 3-6 months to heal, and during this time the jaw bone will form around the implant in a process called osseointegration.

After the implant has healed it is time to place an abutment on the implant. The abutment serves as the base for your new tooth. A small connector post is attached to each implant. Once this is placed, an impression is taken and used to create your permanent restoration. The last phase of treatment is to attache a porcelain crown to the implant completing your treatment. Your smile will look just like it used to, and after a short period, the implant  will not only look but also feel just like one of your own natural teeth.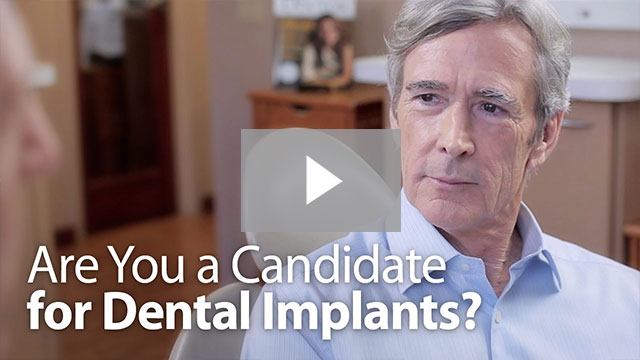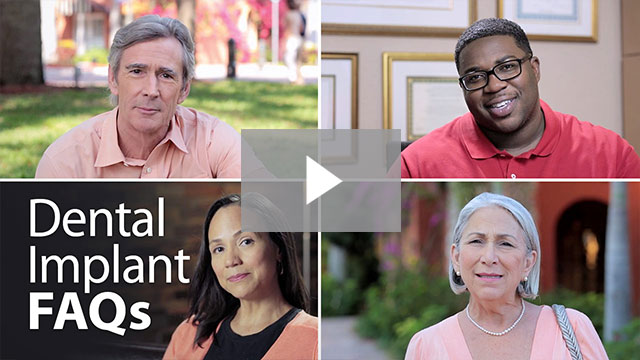 Related Dental Implant Articles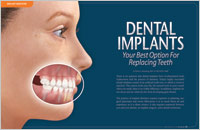 Dental Implants – Your Best Option For Replacing Teeth
Dental implants have many advantages over older methods of tooth replacement like bridges and dentures — from the way they function and feel to the way they look and last. Vigorous research has documented and confirmed that in the right situations, dental implant success rates are around 95%. It is no exaggeration to say that they have revolutionized dentistry. They may even change your life... Read Article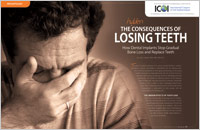 The Hidden Consequences of Losing Teeth
For those missing even one tooth, an unsightly gap is actually the least significant problem. What's of far greater concern is the bone loss that inevitably follows tooth loss. Dental implants fused to the jawbone can preserve bone, improve function and enhance psychological well-being. Learn how implants serve both as anchors to support replacement teeth, and preserve bone as one of the better preventive maintenance procedures in dentistry... Read Article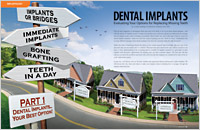 Dental Implants — Evaluating Your Options for Replacing Missing Teeth
As we guide you through the marketing hype you'll see that well planned implants most often require a team approach in assessing whether they're right for you. Not only are they a better treatment choice, they will last longer, possibly a lifetime, making them the right choice and the most cost effective option long term... Read Article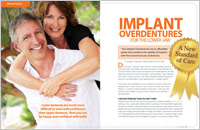 Implant Overdentures for the Lower Jaw
Implant overdentures represent a major change for the dental profession and the public. The lower jaw two-implant overdenture may be considered a more appropriate starting point over regular dentures... Read Article